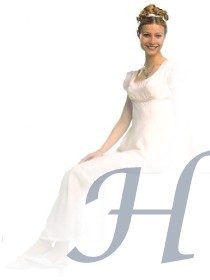 Other Works
Jane Austen's seven most popular writings have been translated into many film and play productions, especially during the last ten years, when A&E's Pride & Prejudice sent the ball rolling. Miramax pictures swiftly caught it up and produced Emma, while Sense & Sensibility came out under the direction of Columbia-Tri-Star. Persuasion soon followed, and in 1999, Mansfield Park bounded out of Miramax's studios. Northranger Abbey is in post-production.
The reason for the popularity of these films is largely due to their innocence, I believe. Jane Austen was the queen of stories that point out the flawed tendencies in human nature, build upon mistakes and secrets, and eventually bring everything to the light with an element of wit and charm that is unrivaled even by modern authors.
I have completed summaries for each film translation, and linked to original reviews at my main site, Charity's Place. I would encourage you to visit Pemberley if you have any questions or seek more information about Jane's works in general. I am far from an expert and these are only the results of my humbled opinion. I will begin with the most popular and work my way down. Emma is not included, since I think you already have pretty much gathered my opinion on that subject. On a top note, however, there are two other adaptations, one a mid-seventies by the BBC, another an early nineties by the BBC. I have seen neither but heard through the grapevine that the second, starring Kate Beckinsdale, stays close to the original novel form but is generally disliked for the portrayal of the characters, most noticeably Emma herself and Mr. Knightley.
---

Pride & Prejudice
This is Jane's most popular work. It revolves around the lives of the Bennett sisters, and in particular, the eldest, Elizabeth, or "Lizzie," and her love/hate relationship with Mr. Darcy. Darcy is inevitably a harsh character with an aversion to women in general... until he meets Lizzie. Likewise, she has an instant dislike for him due to his arrogance, but in the end, both find that they are well suited. To my knowledge there are at least three, if not more, mainstream adaptations, but the most popular is A&E's presentation, a six-hour miniseries that follows very closely the book, down to the dialogue.
I originally balked due to the length and the overall "silliness" of the first hour, but gave it a trial run one rainy afternoon after endless persuading and begging by a group of friends. In truth, it is a very captivating and enjoyable miniseries, if you have the time to spend with it. I have only seen it once, but not by choice, and I plan to beg for the Collector's Edition DVD for my Christmas stocking this year. I have a review of the miniseries for you to read by clicking here.
I've also seen the original black and white two-hour adaptation, which I think was what originally gave me a bad attitude toward Pride & Prejudice. It's an awful butchery of a good story.
---

Sense & Sensibility
This has to be my favorite after Emma. I love the gentle romance between Colonel Brandon and Marianne that runs as an underlining current for the basic story of Eleanor and Edward. When the Dashwoods are left penniless by the death of their father, the three sisters and their mother must move to the countryside. Eleanor is the sensible one, Marianne is the romantic, and Margaret is only a child. What comes about is a lesson in the ways of the world mingled with well-meaning romance and touching moments of family pride.
I thought it very dull in the first viewing but have since purchased the DVD to add to my collection. The cast features a wonderful arrangement of well-known faces, the most noticeable being Kate Winslet of post-Titanic fame. I watch it purely for Colonel Brandon. He ranks as my favorite Austen male behind Mr. Knightley. Again, there is a BBC adaptation that I have not seen and cannot comment on. For a fuller review of the most popular version, click here.
---

Mansfield Park
This film revolves around the story of a girl sent off to live with wealthy relations out of an impoverished home. Treated largely like a servant, Fanny is unhappy with her life and soon finds it enhanced by the presence of a new brother and sister to the parsonage, Mary and Henry Crawford. However, not everything is as it seems with the newcomers, and Fanny could loose her true love if she lingers too long.
There has been a great upheaval of displeasure over this recent adaptation by Miramax, one that I can fully support, even after not having read the book. Public audiences claim it has corrupted Austen's original intent in turning Fanny into a feminist. Similarly, it builds up on a barely-mentioned adulterous relationship between her cousin and Henry Crawford and throws in a hint of lesbianism. Certainly it has not the innocence of the past Austen adaptations and I would not recommend it easily. If you are still interested, I would encourage you to read our review.
There is another adaptation by the BBC. If you are a fan of the book or Austen in general I would suggest that one.
---

Persuasion
Anne is a meek little mouse of a heroine. When urged by her family to give up her engagement to a sea captain due to his lack of wealth or connections, she is left believing that her life will never be the same. When several years later he reappears in her life, only to flirt unabashedly with her cousins, Anne begins her own journey to self-purpose as a sleeping love is reawakened.
This is probably my least-favorite Austen film, not due to the story itself but the portrayal of the characters and their plight. Anne gets on my nerves with her timidity and the helpless "save me" look that seems imprinted on her face. Additionally, I found, in my three viewings, that the film is very difficult to follow. It was only on the most recent that I actually began to understand the storyline. Worth a watch, certainly, but recommended for those who have read the book and therefore know the basic aspects of the tale and characters. I've recently written up a fuller review...
---
Northranger Abbey
I'm sorry to say that I know very little of this volume or its film adaptations save that Miramax is in post-production of a film possibly starring Rachel Leigh Cook in the lead. There is an older version that my library doesn't have, but I'm told it's very dark and gothic, not at all like the volume's original intent, with elements of the supernatural. Whether or not my friend is right, I'll leave to you to find out. There is currently a site devoted to the newest in-production adaptation that you can find by clicking here. She should be up on the latest information.
---