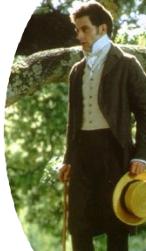 Jeremy Northam
Mailing Address Unknown
Jeremy Northam was born in Cambridge, England to parents John and Rachel, both professors at Cambridge University. He is best known for his translations of Ibsen. The family moved to Bristol in 1972. Jeremy attended London University, where he majored in English. He received his professional training at the Old Vic Theatre School, then worked his way through regional theater to the London stage.
Northam was the recipient of the prestigious Olivier Award - the British equivalent of the Tony - for outstanding newcomer, for his 1990 performance as Edward Voysey, the moral pivot of the Royal National Theatre revival of the 1905 play "The Voysey Inheritance." Trying out American cinema, Northam landed several small parts in various productions before hitting paydirt with Sandra Bullock in the 1994 thriller "The Net."
People didn't begin to really sit up and take notice until his "formal debut" as Mr. Knightley in the Austen adaptation of Emma. What followed were a crop of period films that is sending him well on his way to stardom: "The Winslow Boy" pitted him against director David Mamet in a screen adaptation of the well-known British play. Northam played the unemotional Sir Robert Morton hired to prove a boy innocent of robbery.
Also that year, Northam finished filming the witty comedy "An Ideal Husband" with Cate Blanchett, Rupert Everett, Julianne Moore, and Minnie Driver. He then portrayed an escaped convict in the comedy "Happy Texas", and a wealthy prince in "The Golden Bowl." Upcoming parts include "Possession" with his former star Gwyneth Paltrow, and the WWII thriller "Enigma."
Films I have seen and reviewed starring Jeremy Northam:
Emma, An Ideal Husband, The Winslow Boy, The Net
---
---
Filmotography:
Enigma (2001) .... Wigram
Gosford Park (2001) .... Ivor Novello, Esq
Possession (2001) .... Randolph Henry Ash
Golden Bowl, The (2000) .... Prince Amerigo
Happy, Texas (1999) .... Harry Sawyer
Ideal Husband, An (1999) .... Sir Robert Chiltern
Winslow Boy, The (1999) .... Sir Robert Morton
Gloria (1999) .... Kevin
Misadventures of Margaret, The (1998) .... Edward Nathan
Tribe, The (1998) (TV) .... Jamie
Amistad (1997) .... Judge Coglin
Mimic (1997) .... Peter Mann
Emma (1996) .... Mr. Knightley
Voices (1995) .... Philip Heseltine/Peter Warlock
Net, The (1995) .... Jack Devlin
Carrington (1995) .... Beacus Penrose
Village Affair, A (1994) .... Anthony Jordan
Wuthering Heights (1992) .... Hindley Earnshaw
Fatal Inversion, A (1991) (TV) .... Rufus Fletcher
"Piece of Cake" (1988) (mini) TV Series .... 'Fitz' Fitzgerald
Journey's End (1988) (TV) .... Captain Stanhope
Suspicion (1987) (TV) .... Mr. Benson
---