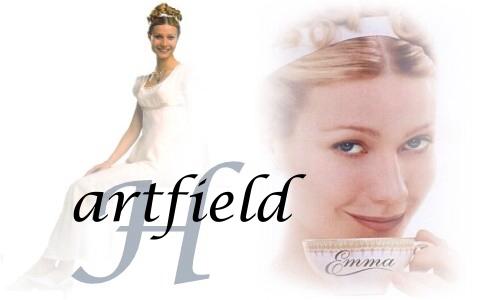 ---
She was the queen of matchmakers, the top card in every deck, popular, persuasive, charming, and beyond reproof... or so she thought. But when Emma Woodhouse began to light little fires unknowingly in the hearts of everyone in town, she realized too late that it's not safe to play with matches. Now faced with a horrific muddle of mixed intentions and ideals, Emma must attempt to repair her own broken heart in time to discover the true meaning of love.
You have reached the largest site dedicated to the film Emma on the net. We have a huge gallery of screen captures as well as promotional pictures, lobby cards, press kit pictures and more. We also have wallpapers, sound clips, character summaries, interviews, and tons of information readily available. I love all Austen films in general, but Emma has always been my favorite. Perhaps it's the way Gwyneth Paltrow plays her with such cattiness, or maybe it's Knightley's winning smile. (I think that's it... ;)
I'm in the process of building this site up at the present, so some of the galleries are not yet open. But do check back often, as I'll be uploading new sites all fall. I hope to have them all up before Thanksgiving. ("A party is a party, but a party on a summer's eve...!") I've also done a lot more "Austen-izing" to my site lately, for those of you who are true blue Austen fans. I've found a lovely site for Sense & Sensibility to link to on my links page, as well as gathering up the most impressive sites based on other Austen films.
---
| | | |
| --- | --- | --- |
| You are visitor number | | since April 3d, 2000 |
---