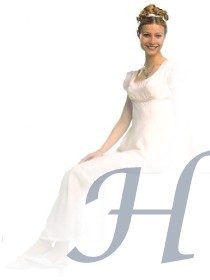 Sister Sites
Below is a list of web sites that have contributed to my work, support the same value system that Hartfield does, or is an excellent online resource for Austen and/or her films in general. They include links to other period sites of interest, including Charity's numerous other film galleries and a link to her homepage. If you have a site that you would like to see added to this page, please e-mail me and I'll check it out.
Period Film Sites:
This is Charity's homepage, where you will find hundreds of movie reviews, writing exercises, online newsletters, story archives, and more. She put the most effort into this site (although all of her sites are superb!) and keeps it maintained and updated weekly.
This site is dedicated to the A&E and BBC presentation of Lorna Doone, starring Amelia Warner and Richard Coyle. We have an enormous audience as well as a huge site with tons of pictures, transcripts of the film, interviews, reviews, general information, character summaries, cast information and more.
Other Austen Sites:
The scuttlebutt is that Miramax (responsible for Emma and Mansfield Park) are filming a new adaptation of the book, tentatively starring Rachael Leigh Cook. This is the site to keep you updated on news, rumors, and progress of the film. A very pleasing design.
There are a number of excellent sites on the web devoted entirely to this masterful BBC/A&E production, but here's one of my favorites. They have beautiful, original pictures not found anywhere else and much more content than some of the other sites I've paid homage to in the past.
At last, I found a site that actually was pleasing to the film. With a beautiful opening page, hundreds of original pictures, and a lovely layout design, this site at last makes itself a lovely dedication to a wonderful production. I look forward to any new updates that the web mistress has in mind.
I've had some requests for information on the alternate version of Emma, and so I've enclosed this link for your perusal. I have never personally seen the film but hear that it adheres well to the book. The general opinion is that the Miramax version is prettier and more romantic, but I'll leave that for you to decide.
Is the ultimate Austen obsession site for those who cannot get enough of the author, her books, or their adaptations. A very active discussion forum for each book, tons of links, images, and information, and a helpful board of ladies willing to answer any questions.
---