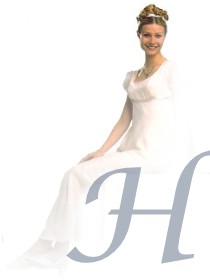 The Adaptation of Emma
Originally, Douglas McGrath contemplated a modern-day translation of Emma, set in New York City, but when he discovered that a similar film, Clueless, had already been released, he decided to leave it in the original period... the time in which Austen herself lived. He also had no idea at that time how popular the Austen works were becoming, in that at the same time work was in production on Sense & Sensibility, Pride & Prejudice, and a BBC version of Emma.
McGrath's first option was to include only British actors in the film, starting with the suave and attractive Jeremy Northam he had seen on the set of The Net (co-starring Sandra Bullock). He was so impressed with Northam's charisma on-screen that he was immediately asked to try out, however, the part was not for Mr. Knightley. Northam, however, felt more drawn to the part of the quiet and gentlemanly man who discovers his passionate love for the heroine, and convinced McGrath to let him try out for Knightley.
That was the first thought of brilliance. And the second came with the director's thought to cast Gwyneth Paltrow, a little-known actress, in the lead. A New Yorker, Paltrow pulled off the first reading and the long list of actresses, big and small, that were hoping to tryout, was ditched. Filming began, and in 1996, the finished product, financed and supported by Miramax Motion Pictures and Matchmaker Productions, came to the theaters. It was a success, and began the careers of Gwyneth Paltrow and Jeremy Northam in earnest.
General Trivia
Northam was shocked that his request to play Knightley was actually accepted. He confesses that he was drawn to the part because of Knightley's gentle nature and unpressing charm, and thought that as an actor, he was not prepared to handle a part of which other highly-paid performers were considering. He also considers himself very homely... obviously he's never looked in a mirror.
Phyllida Law and Sophie Thompson, a mother-daughter duo, were cast purely by coincidence to play Mrs. and Miss Bates.
Some of the actors were drawn to the script because they'd never been in a period film before. Gwyneth Paltrow was a bit disappointed with the costumes, since she didn't have the cleavage that some of the other actresses had. However, her shining personality overlooked a flaky minor detail, and it made no difference at the box office.
Northam also complained at the high collars he had to wear... and said he would wait awhile before doing another period film. He didn't. The Winslow Boy and An Ideal Husband were his two highest-box-office films; the latter placed in 1883, the former in 1912. Toni Collette was asked to gain weight in her role as Harriet, which she did without complaint.
All of the dancing scenes required a chorographer on-hand to account for the precise movements. Paltrow and Northam were both given lessons in dance and fluid movement. Paltrow had taken archery before, but was required to learn how to drive a horse, and was given singing lessons for her portrayal of "Silent Worship." (Paltrow also has out a best-selling hit single.)
Emma cost less than half of Sense & Sensibility's budget, and is compared as being the more lush of the two.
Emma was filmed in a large set in London, made up of an original manor of the era, which is gutted and refurnished for other period films. Knightley again found himself at the original set in the making of The Winslow Boy. Similarly, the two Parliament scenes in both Winslow Boy and An Ideal Husband were filmed in the same corridor.
---