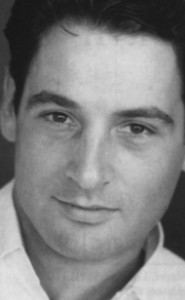 The Examiner
JEREMY NORTHAM: The suave seducer Stuffy British actor?
by Jane Ganahl, (c) 1996
Not a chance... BEVERLY HILLS -- I have to admit, I wasn't looking for laughs when I set up an interview with Jeremy Northam, the romantic lead in "Emma" opposite Gwyneth Paltrow. The journalists assembled for this purpose at a Southland screening agreed: These classically trained English actors can be a bit, well, stuffy. At worst, a crashing bore. But my interest in him was justified, boring or not -- he does brighten up the screen as one of Jane Austen's most gentlemanly characters.
The next morning, he's late to the interview. When he finally trots into the room, youthfully grungy clothes askew, eyes wild, he breathlessly shouts, in a meticulous Cambridge accent, this excuse: "I'm sorry I'm late but I went to my very first game of American baseball last night! It was marvelous! Between the Los An-gel-eez Dodgers and the San Fran-cis-co Giants. And the Giants stuffed 'em! Their pitching man, Sean Estes, was quite a wonder! Struck out 11 men. I loved it -- the sounds of the stadium and the random acts on the field. And the hot dogs! Like eating two pounds of rock salt. By the end of the evening I felt like Popeye, with my face swollen out to here. . . ."
He puffs his cheeks up like a blowfish, then abruptly plops in a chair and offers an outstretched hand. "Anyway, hello, how are you?"
Is this goateed, spiky-haired extrovert really the man who will make women sigh as the dashing Mr. Knightly? Indeed he is, and despite the odd package, the charisma seems intact. The 34-year-old son of a Cambridge professor was in fact classically schooled in the theater, and was a successful stage actor before turning to the silver screen. In 1990, he won the coveted Olivier Award (the equivalent of the Tony) for his role as Edward Voysey in "The Voysey Inheritance"; earlier he received accolades for his performance in the Royal National Theatre's "Hamlet."
He bridged the gap between theater and film by taking roles in Brit-art movies like the remake of "Wuthering Heights" with Ralph Fiennes, in which he had a secondary role; in "Voices From a Locked Room," which starred him as British composer Peter Warlock; and "Carrington," in which he played one of Emma Thompson's young lovers. (Which one? Remember the scene below deck on a sailboat, up against a dresser? Yow.)
The break into more mainstream Hollywood fare came with Irwin Winkler's "The Net," in which he played a bad guy (English of course) who wooed and then tried to kill Sandra Bullock. And now, "Emma," composed of American and British actors, featuring Northam as both Paltrow's mentor and the man who finally causes her to fall in love.
With his swashbuckling physicality and increasing number of roles as a suave seducer, Northam has been called "a thinking woman's pinup." But the very idea makes him buggy. "___ you can't be serious. I'm an ugly ______!" He blushes, tries to bury his face in his hands.
So why is he cast as a romantic leading man opposite lovely women? "I don't know! I really don't. I suppose that's because I'm a good reactor, rather than a good actor. I suppose that's why it works."
In fact, Northam spends a great deal of time as Mr. Knightly responding to the machinations of Emma, whose character is 15 years younger than his and light years less mature. He lectures her, shouts at her, coddles her -- everything a big brother would do. And then he realizes he's feeling differently toward her.
"He eventually gets that he's interested in her sexually and passionately, a shift from being protective toward this person he's always viewed as just a silly girl," Northam smiles. "Up until that time he's been one of the few people who will tell her where to get off."
The building chemistry between the two makes for some delicious tension: a classic Jane Austen foil. Is he aware how much the audience is pulling for them to get together? "No, not really, because I've only seen the film once, and not under ideal circumstances. They flew me to Cannes for the premiere but nobody was in the least bit interested in seeing it because it was a charity event! Really bizarre. People were there to look at other people in the audience. 'Oh look, there's Sharon Stone!' You know. I look forward to seeing it again, because the first time you see a film you're in, it's not quite hopping behind the sofa time, but nearly."
Of shooting star Paltrow, Northam says, "Technically she's brilliant, but she was also a lot of fun to play with. There were wonderful subtleties -- sidelong glances, physical interactions -- that made working with her exciting."
And in return, Paltrow in an interview says: "Jeremy's a wonderful actor and a very sweet guy. Our approaches were very different -- he's very schooled in the theater, which is not my background. So that alone provided a lot of stimulation. He's also really funny, isn't he?"
He's even funny about the fact that his life isn't exactly a fairy tale these days. "I split up with my girlfriend of nine years recently -- I guess I don't have Mr. Knightly's altruism. And I've never been more unemployed as an actor. But at least I can take some time for some fun!" To do what? He furrows his brow, then brightens. "Go to more baseball games! Eat more hotdogs!"
---