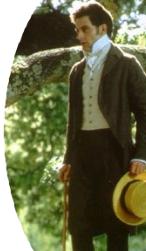 Mr. Knightley
"Perhaps you are wise! But Emma... I cannot be wise! I must tell you what you will not ask." ~ Mr. Knightley (Jeremy Northam)
Dark-haired and dauntingly handsome, Mr. Knightley is the shadow over Emma's life, the ever-present brotherly figure of her existence. A well-bred gentleman with perfect manners and deportment, his presence fills the room. He has an overwhelming sense of elegance, and his kindness is sincere, which is one reason he is well-liked throughout Hartfield and society.
His one flaw is delighting in proving Emma wrong, and often his advice is not heeded. Satisfied to allow his dear friend to be burned by the matches she herself lights, Knightley enjoys watching her flirtatious games, until one day when he is convinced that a bad influence has won her over. Then chastising her severely, his faith in her is jeopardized... and therefore, their friendship is flung upon the rocks.
Can Knightley determine his true feelings for Emma before her heart belongs to another? Or is all too late, lost in an eternity of deceptions and couplings? Only time will tell what lies ahead.
Character Traits:
Much older than Emma (sixteen years her superior) Knightley has the laid-back temperament of a man well-assured of himself. His qualities and character traits go hand in hand... his kindness and compassion, the earnestly in his eyes, and the wit in his tongue. He can hold up with the best of them, and even out-debate Emma when it comes down to it.
Memorable Moments:
While Emma is performing for the Coles at the pianoforte, Knightley is intent upon her. His realization that Frank is paying court to her erupts a tangle of emotions, not the least of which being jealousy, which flash across his face and through his eyes. Another scene not to miss is the pre-proposal, and his wounded puppy look.
Memorable Quotes:
"Were she prosperous, or a woman of situation, I would not quarrel about any means of manner. But she is poor! Even more so than when she was born! And should she live to be an old lady, she will sink further still! Her situation being in every way below you should secure your compassion!"
"John, this may be the finest Knightley yet. You and Isabella should have brought her sooner. Doesn't she look fetching in the arms of her aunt?"
"Come near, and let us quarrel no more."
"Oh, I have some news! And I know how you always like news!"
---